Water Heater Repair in Studio City
We at Studio City Appliance Service knows exactly what our customer needs are and how to deliver required services. We have been operating in and around the Studio City, CA area for more than 25 years. We pride ourselves in having perfected the art of handling repairs on all home appliances makes and models.
Among the services we offer is the water heater repair. Customers who have dealt with our water heater repair services have given positive feedback. The winning approach is achieved through the experience we have gained in the plumbing, heating and cooling industry through the years. We have dealt with virtually all water heater problems.
We do understand that your water heater is an important appliance in your household. It forms part of your comfort system in terms of hot water bathing, clothes washing, cleaning dishes, and showering. It calls for the system to be always in the best working condition. We respond with immediate action once our customers call up.
Common Water Heater Problems
Having for so long dealt with most water heater problems, we can assure you that we have the right solution for all your repair service needs. We highlight below some of the most common problems that can occur to your water heater.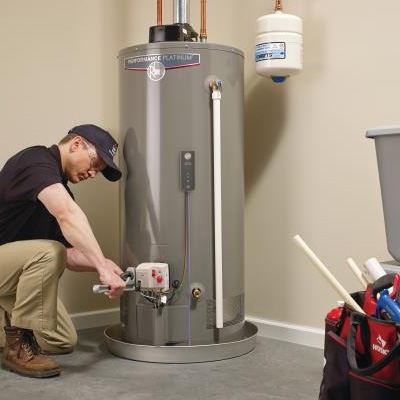 No Hot Water
A common complaint with water heaters. The first thing is to check whether your heater is on. The type of heater you have will determine how you go about checking. Turn the pilot light on if it is an electric heater. A gas water heater will work differently in that it has a flue on the top and a burner fixed at the bottom. If you turn either of them on and they do not work, it then means that the problem is bigger. You will need to contact our plumbing experts at Studio City Appliance Service.
Water is Colored and smelling
The problem can be caused by a reaction between the anode rod and the water which may contain high amounts of sulfates. It means that the water heater is corroding and rusting away. You can test the extent of the rust by flushing the water tank and running the hot water flow around for several minutes.
You can consider the installation of a house water filter or try a water softener. The other alternative if the problem persists is to have your anode rod replaced. Call our plumbing experts at Studio City Appliance Service for the best advice and fix.
Not hot enough
This can be caused by an undersized heater for your hot water requirements. You might also have installed a bigger soaking tub or a high flow shower due to your increased needs. The outer temperatures might also have gone so low, requiring the water heater to work
harder to meet the requirements. All cases will call for a larger water heater to meet the increased capacities. Tankless water heaters offer the best solution as you are ensured of a constant hot water run.
Noise from the water heater
Contracting and expanding metal parts, hard water, and mineral scale accumulations or drips in the tank or the heating elements can cause water heater noises. At this stage, the problem has advanced to an extent that requires expert handling.
Leaking Hot Water Heater
This may be caused by the drain valve being broken, rust, condensation build up or too much pressure build-up in your tank. Any leak should be reported for professional advice and repair services with Studio City Appliance Service.
Contact Us
For all those repair services, water heater parts and much more, please contact our customer service team. Our services are available from Monday to Friday from 9am-6pm, and on Saturday from 9am-4pm. Our contact details are available on our contact page.